Unless you're prepared to get an infection or ruin your trusty (expensive) vibrator, you gotta learn to properly CLEAN YOUR SEX TOYS.
We know it's more than likely the last thing on your to-do list but clean sex toys are super sexy and harmful infections are not. Bacteria and STI's can hang on to your toys for days, so avoid that spread and clean your toys both before and after a sesh.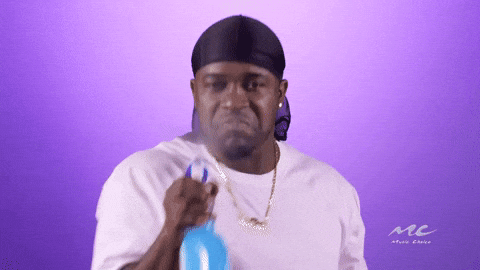 HOW TO CLEAN
There are a few different ways to clean your toys and mostly it depends on what your toy is made of and whether or not it has a motor.
WASHING
The easiest way to clean your toys is to run them under warm water and use a foaming wash to scrub away the goop. (Almost all sex toys are waterproof or splash-proof these days but check first for peace of mind). Then rinse and air dry or use a clean towel before storing away in a bag. You can use regular soap too but if your toy is silicone, you have to use one that doesn't contain oils as oil damages silicone. We recommend sticking to anti-bacterial foams and sprays.
If you don't have water nearby, just apply foam or spray and wipe off with a tissue.
SPRAYING
These are great if you can't get to a bathroom (hello share house, camping in the wilderness) but still want to disinfect your toy buddies. Just spray, wait at least 10 seconds, then rinse and dry before storing away.
BOILING
Boiling does a great job of disinfecting and cleaning but only if your product does not have a motor in it. THAT will kill it for good. Boiling is great for glass, stainless steel, ABS plastic and silicone dildos.
DISHWASHING
Definitely the lazy person's go-to but, as above, don't put a toy in the dishwasher if it contains a motor. Dildos yes. Vibrators no.
STERILISING
If you really want to properly sterilise your toys, do yourself a favour and invest in a UV steriliser. They use ultraviolet rays to obliterate harmful bacteria. Just pop them inside the pouch or box, close the lid and wah lah - your toy is super clean and completely disinfected. We find them indispensable for anal toys which can have traces of fecal matter remaining, even after you've washed them in the regular way.
DRYING
Sex toys are best left to air dry but you can use a soft cloth to get the job done more quickly. It's really important to store them in a lint free, clean bag. We absolutely can't recommend highly enough the Fun Factory anti-microbial toy bags.
We hope you've found this helpful :)
 Sign up to our newsletter for your weekly dose of Passionfruit Pulp + CATS