POWER SCALE: 4/5
NOISE LEVEL: Reasonably quiet
TYPE: Internal - rechargeable - app controlled
FUNCTION: Unlimited functions via the app

Gravity is the newest remote control thrusting and vibrating dildo from sex tech company Lovense. Thanks to its strong suction cup, it turns any smooth surface into your sex partner in seconds, and no matter the angle or the position you prefer, Gravity will adapt and give you either the perfect solo play experience, strap on dildo or have Gravity as a special guest to fulfill any threesome fantasies you have with your partner. 
FEATURES
Dual Sensations
Vibration motor located at the tip & up to 140 strokes/min, 3 cm (1.18 in) stroke length.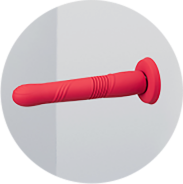 Hands-free
Strong suction cup enables hands-free use by attaching it to smooth surfaces.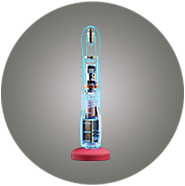 Super Powerful & Lasting
Each motor provides intense sensations during its 4 hours of battery use.
Lovense is a world leading sex-tech company that specializes in the development of remote-controlled sex toys and pleasure products. Each toy can be used via the buttons on the product or via an app for either hands free or long distance hookups. You can also sync your Lovense toy to music or participate in virtual sex with multiple partners. Go HERE for more info.
Lovense have designed two apps for users.
The blue app enables you to control your partner's pleasure or have them control yours, regardless of the physical distance between you. Or you can both have a toy and sync them up for even spicier scenarios. The feature of controlling each other's toys (where the toys react to one another based on your movements) is only compatible with the Nora, Max, and Calor.
The pink app is for cammers and enables the user to connect multiple toys, set up personalised games, set special commands, splitcam, give live control, have virtual sex in private and has its own payment gateway.

Set your tip-based vibrations
Sound-based vibrations
Connect multiple toys
Set up personalized games
Set special commands
Works when splitcamming
Easily give live control
Have virtual sex in private
DETAILS

I year warranty (serial number is stored in your app or else you need to keep the box)
Do not submerge the base in water
Body safe silicone